Finding Case Studies: Business Administration
Find case studies in journals
Business Source Complete
In Business Source Complete enter your search terms, then either check off the Document Type Case study or include the Subject Case studies as part of your search.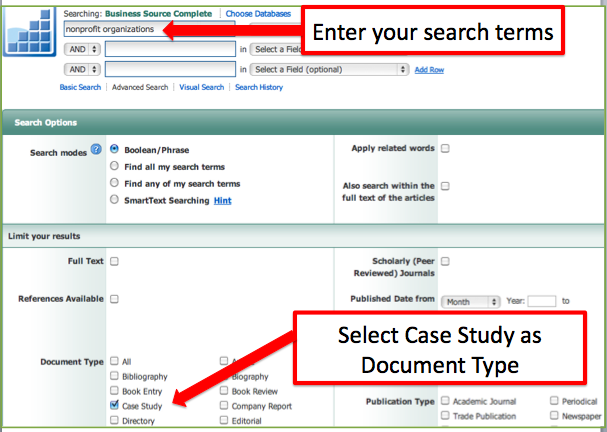 CBCA Complete
CBCA Complete offers similar ways of finding case studies: enter your search terms, then either check off the Document Type Case study or include the Subject Case studies as part of your search.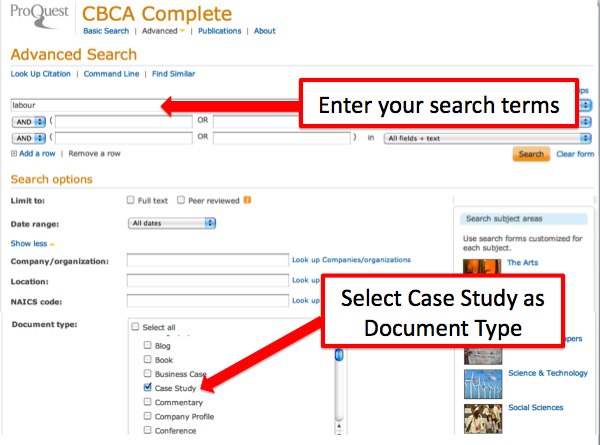 Business Insights: Global (Gale)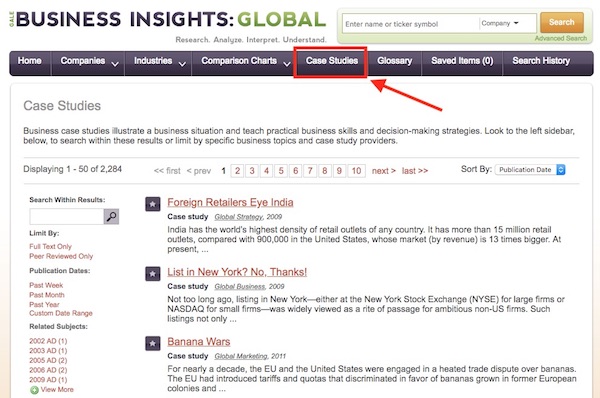 Journals that include Case Studies
Free Cases
Acadia Institute of Case Studies (Acadia University - Archived version)
From the website: "The Acadia Institute of Case Studies (AICS) is a non-profit centre in the School of Business Administration, Acadia University. The purpose of the Institute is to develop educational resource materials to assist educators and instructors in the classroom by providing innovative and enhanced "teaching tools" which reflect "real-world" situations."
Arthur Andersen Case Studies in Business Ethics
From 1987-1994, Arthur Andersen funded a $5 million joint project with 525 universities to raise awareness of business ethics. This collection of 90 case studies is one product of that effort.
AsiaCase.com: the Asian Business Case Centre
E-catalogue with abstracts.
Aspen Institute: Ideas worth teaching
"Ideas Worth Teaching is a tightly curated, weekly email for business school faculty to prompt new conversations in the classroom about the relationships between corporations, capital markets, and the public good. Its intent is to provide "drag and drop" functionality – allowing faculty to easily use the articles, cases and other teaching materials that we will be sharing in their class discussins."
As part of The Case Centre's commitment to promoting the case method and supporting case teachers, we offer a growing range of free cases produced by a number of prominent schools and organisations across the globe. Note: registration is required to access these case studies.
Copenhagen Business School Case Studies (Case Centre)
Copenhagen Business School's (CBS) collection of free cases is part of its commitment to the Principles of Responsible Management Education (PRME). All the cases focus on aspects of responsible management, including social responsibility, anti-corruption and sustainability.
MIT Sloan School of Management: Learning Edge: Case Studies
The teaching business case studies available on LearningEdge, which fall under the headings of entrepreneurship, leadership/ethics, operations management, strategy, sustainability, and system dynamics, are narratives that facilitate class discussion about a particular business or management issue.
Schroeder and Schroeder provide case studies related to the work they have done for various clients.
Updated annually, the Times 100 presents actual business issues from real world companies.
Virtual Economy Case Studies (Biz/ed)
Looks at the impact of various economic policies on three different groups: People, Business and Government.
Updated: October 30, 2018
Updated by: dmoses@upei.ca