Before you start searching Eureka we recommend reviewing the tips below. Basic search functionality in Eureka is intuitive, but some features of its interface are unusual.
Eureka is an online news database that offers coverage of dozens of Canadian and international newspapers. The main reason our Library subscribes to Eureka, however, is for the online access it provides to Prince Edward Island's two daily newspapers, The Guardian (coverage from 1997-present; 1 day emargo) and The Journal Pioneer ( 1999-2020 * print publication of Journal Pioneer suspended in March 2020 -- it has since resumed publication as a weekly).
Eureka - Starting a Search
Our Eureka subscription is set to open on the basic search screen, with "PEI Newspapers" (i.e. Guardian and Journal Pioneer) pre-selected. Once you have typed your search -- as in the example below, we recommend "quotation marks" for phrases and typed UPPER CASE Boolean operators -- you can click the magnifying glass icon at right to begin searching. [NOTE: The 360° function is a specialized Eureka search feature -- it is not useful for basic newspaper searching, and can be ignored in this context.]

Search Options - Adjusting Time Period and Content Coverage
To limit your search to more recent content (i.e. within the past two years), click on the "In all archives" text below the search box, and use the list that appears to adjust time coverage as desired.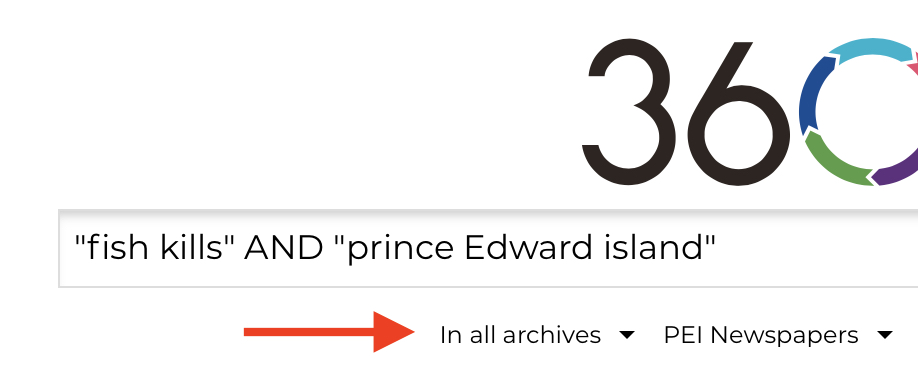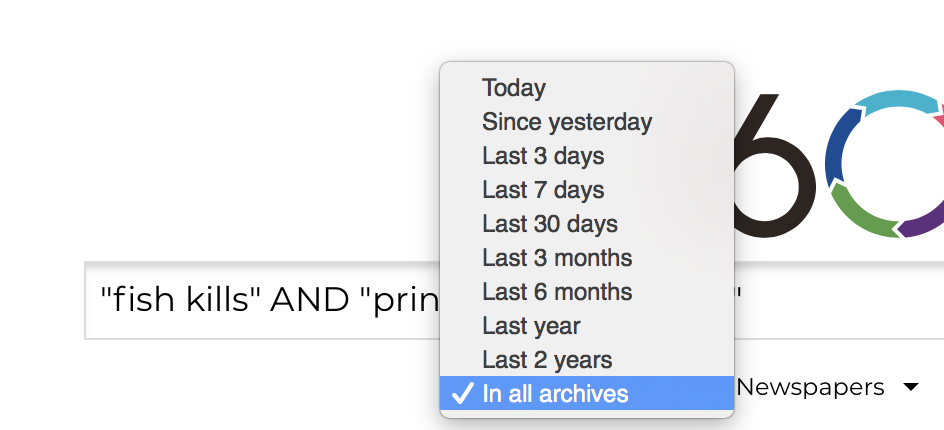 If you would like to expand content coverage beyond The Guardian and The Journal Pioneer, click on the "PEI Newspapers" text below the search box, and use the list that appears to incorporate newspapers from other regions as desired.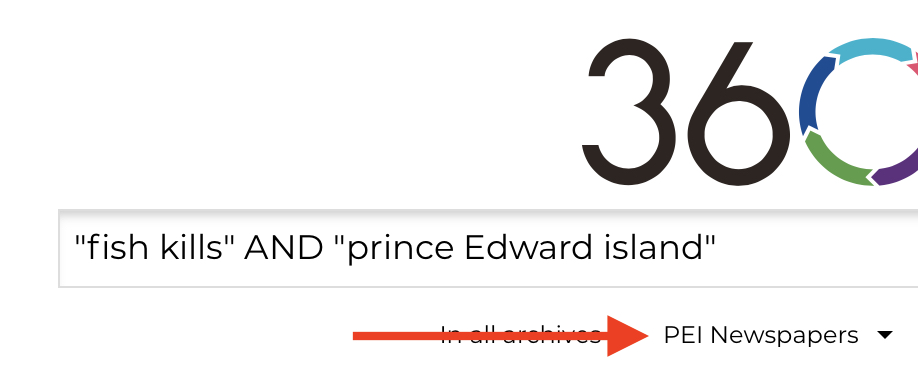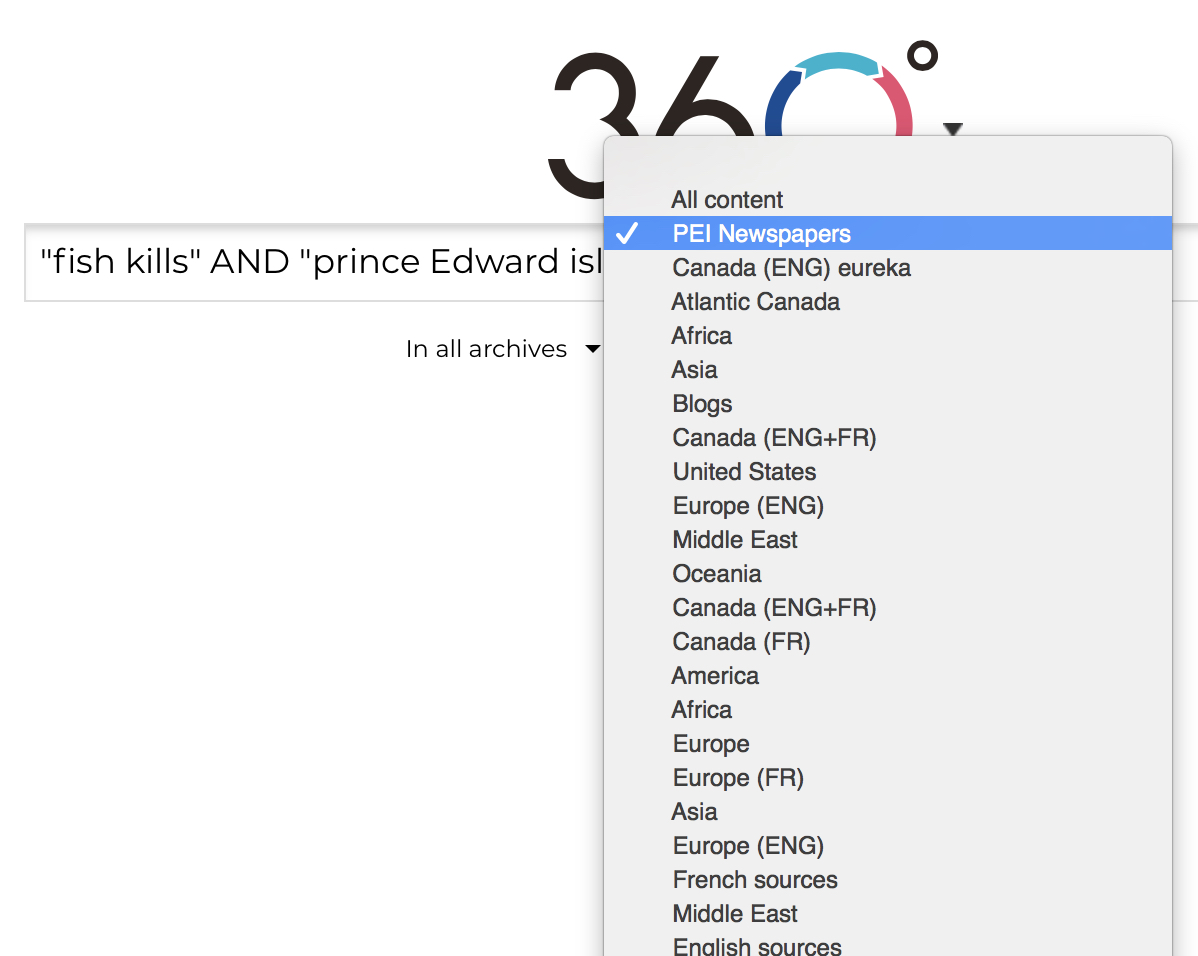 Sorting Search Results in Eureka
Eureka is set up to show 50 results at a time, ranked by Relevance (i.e.number of matches to your search terms found in newspaper article text and headlines).
When searching news content, however, it is often very useful to arrange search results in chronological order, to track coverage of an issue / event over time. To change the order in which results are displayed, click the Relevance box at the upper right of the result list, and select the sort option desired from the list that appears.

Viewing Search Results in Eureka
As is typical in an online database, Eureka will first display a summary listing of search results -- in this context, the results are newspaper articles that contain words or phrases matching your search terms. The summary results (seen at left below) listing includes the name of the newspaper, the title of the article (in boldface), the date of publication, and the length (word count) of the article. Below this, the name of the author (if identified -- news articles are often published with no author attribution) will appear, following by a short snippet of 1-2 sentences, with words / phrases matching search terms highlighted in yellow. Clicking on the title of any article of interest will show it in full (seen at right below).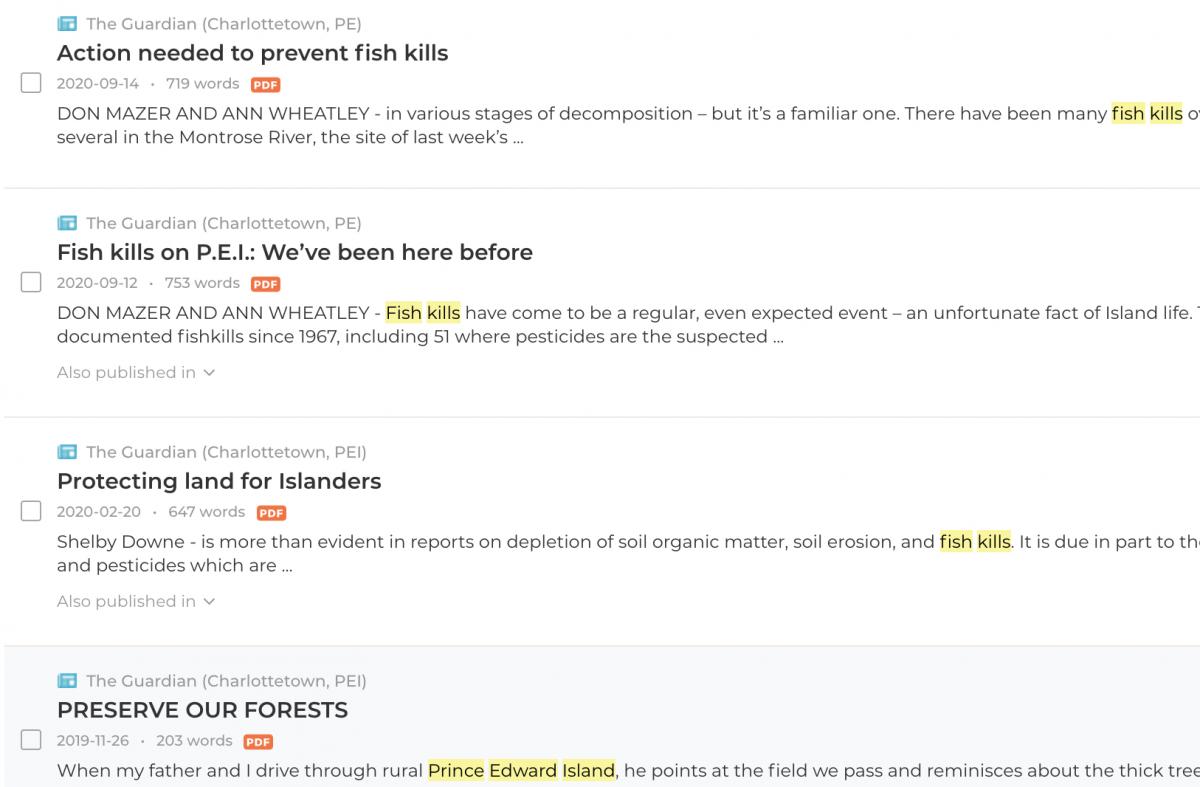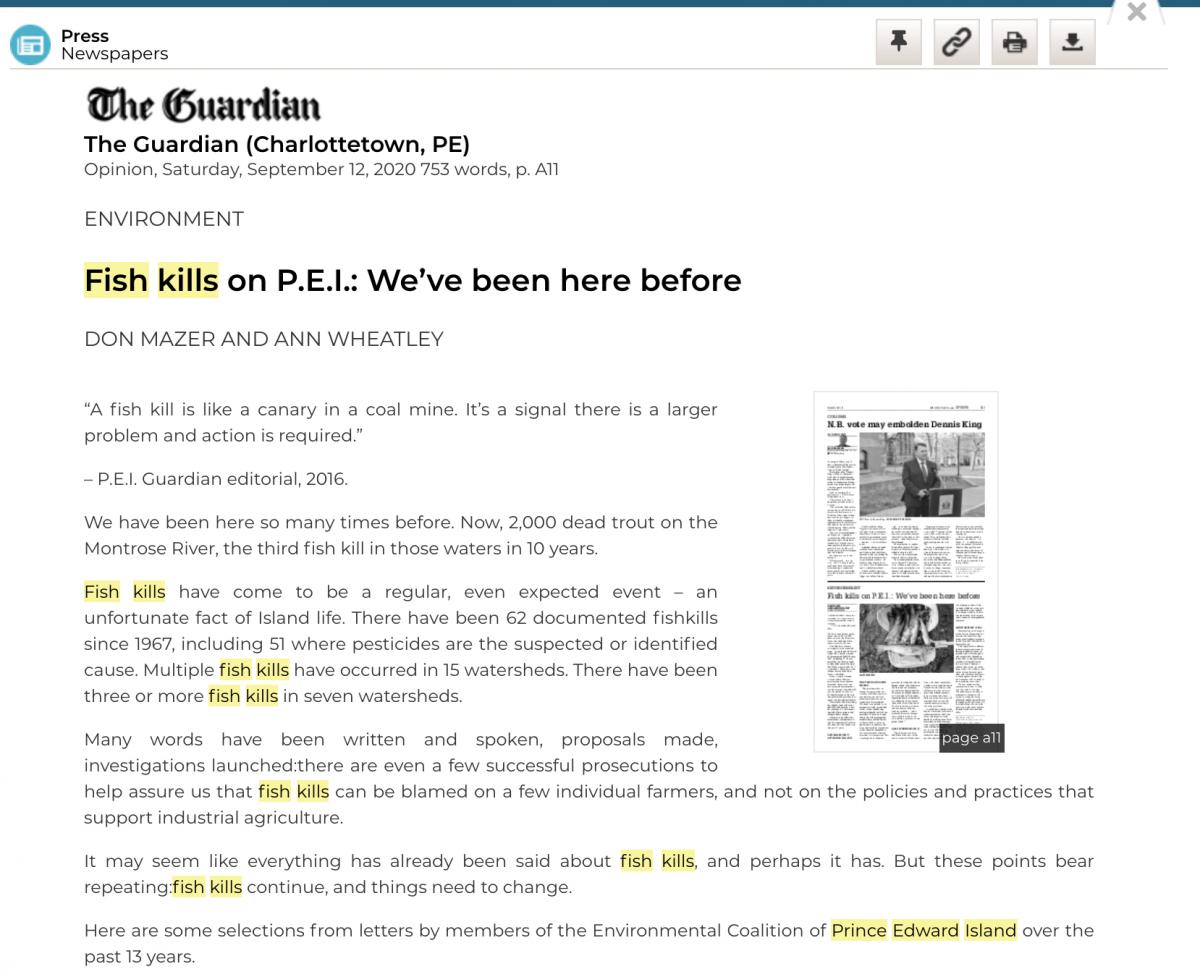 For any articles published from mid-March 2007 onwards, Eureka will display each full article result with a thumbnail view of the newspaper page containing the original article: clicking on the thumbnail opens a full-page .pdf, as seen below.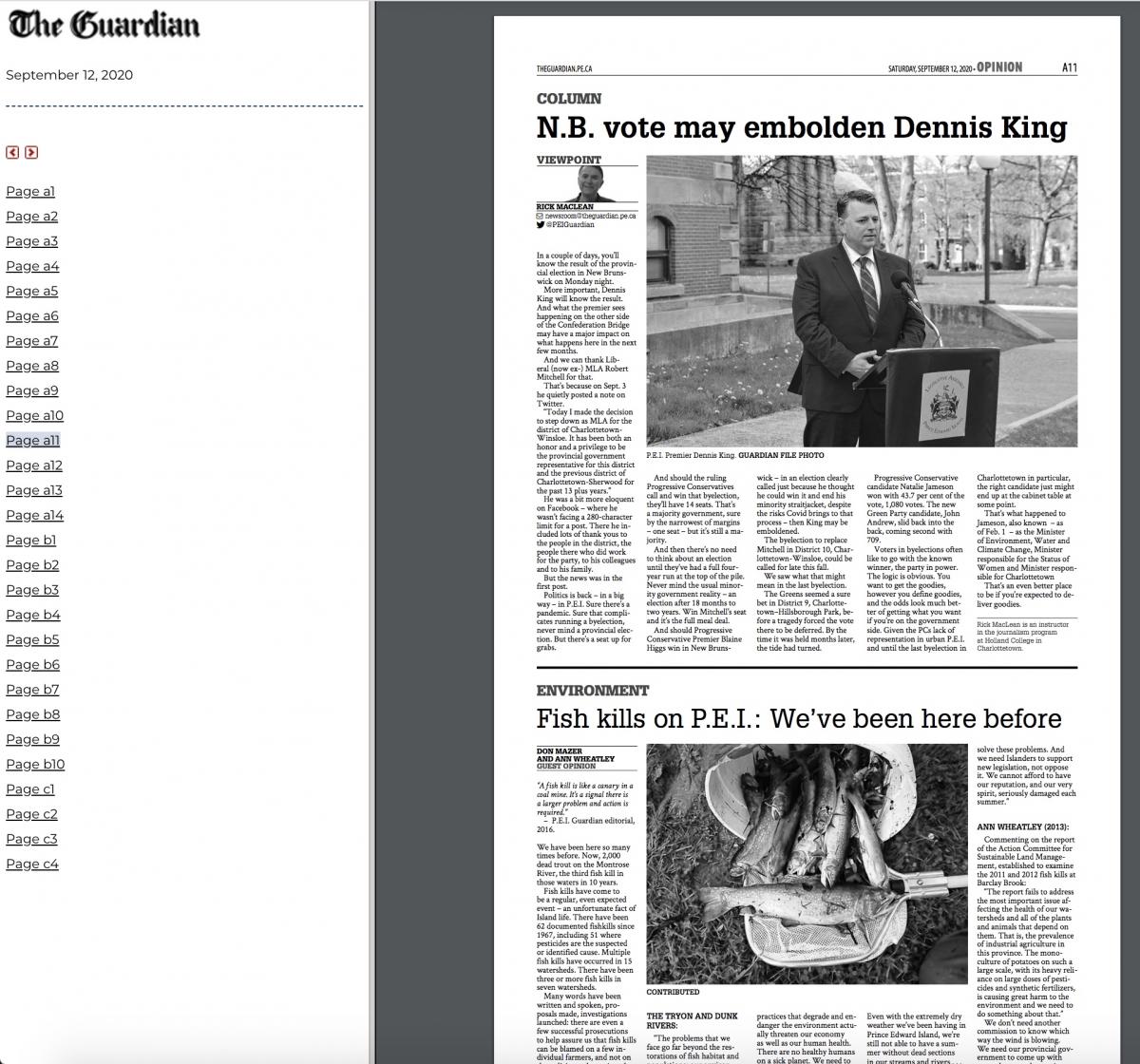 Created by:
Donald Moses
(Collections and eResources Librarian)
Updated by:
Simon Lloyd (University Archivist and Special Collections Librarian)
Date updated: strong> September 2020