Language Lab Information
Location: Room 264 (next to the LINC at the end of the "computer hallway", on the main floor)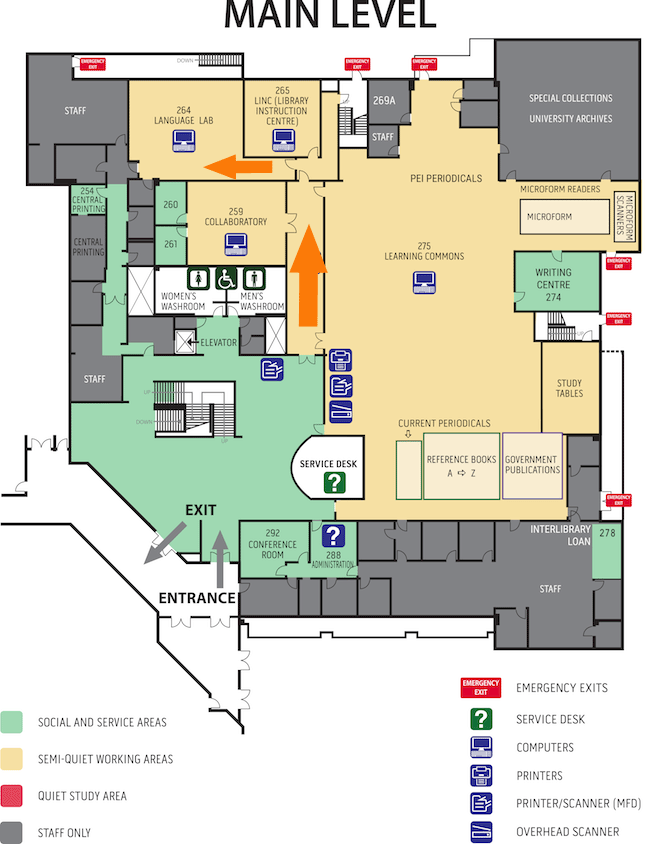 Hours: open for general public use during all main library hours when language classes and other groups do not have it otherwise booked. Generally, that means it is available evenings and weekends, but not as much during the business day. Facilities or Conference Services may book additional times for one-time-use groups. Unfortunately, Library staff does not have access to the full schedule.
See below for the schedule of regular classes for the current semester (to be updated).
Language Lab Software - Rosetta Stone
The Language Lab provides access to Rosetta Stone software with several basic modern languages available for self-learning. To use Rosetta Stone, you need to first register for an account (free to all members of the public) at the Service Desk, as the software tracks individual lesson progress and thus each user needs their own account. To access the Rosetta Stone account:
Turn the workstation on and hold the option key on the keyboard. If the workstation is already on you will need to restart it and hold the option key. Also, to use headphones with microphones from the Service Desk, make sure to connect them to computer before it is turned on.

Once the boot menu appears you can release the option key
Next use the mouse to select the disk labeled Rosetta, then click the arrow that appears below the word Rosetta. After a few moments the Rosetta Stone account will load

To open the Rosetta Stone software click the blue icon located on the dock

If you would like a personal account for Rosetta Stone or need a headset to use the Rosetta Stone software please contact the Service desk at the Robertson Library.
Languages currently available with Rosetta Stone include:
Multiple Licenses

English (levels 1,2,3) - 30 licenses for level 1, 15 licenses for level 2, 15 licenses for level 3
French (levels 1,2,3) - 10 licenses for level 1, 1 license for level 2, 1 license for level 3

Single License

Arabic, Egyptian - 1 license for level 1
Chinese, Mandarin - 1 license for level 1
German - 1 license for level 1, 1 license for level 2
Irish - 1 license for level 1
Japanese - 1 license for level 1
Korean - 1 license for level 1
Latin - 1 license for level 1
Portuguese (Brazilian) - 1 license for level 1
Russian - 1 license for level 1
Spanish (Latin American) - 1 license for level 1, 1 license for level 2, 1 license for level 3
Where a single license is noted, only one user in the lab at a time can access the language pack; they would not be suitable for groups.
Language Learning Alternatives
As an alternative to Rosetta Stone you may want to explore these free online options:
Duolingo

Duolingo is the world's largest online language learning platform.
Free
Access Duolingo's help center.

Rocket Languages

Web-based language learning service that is ideal for beginners and travellers.
Must have a PEI Public Library Service Borrowing Card
Your PEI Provincial Library Card gives you access to 14 self-paced foreign language courses, including Egyptian Arabic, Mandarin Chinese, French, German, Hindi, Italian, Japanese, Korean, Portuguese, Spanish, American Sign Language, advanced English (for EAL learners), English for Japanese speakers, and English for Spanish speakers. Mobile apps are available for iOS and Android.

OpenCulture - Free Language Lessons Online

This collection features lessons in 48 languages, including Spanish, French, English, Mandarin, Italian, Russian and more.
Technology
The room contains 30, 20" iMacs running Mac OS X 10.6 Snow Leopard, plus one 24" instructor's workstation with SMARTBoard and projector (not for public use). The stations have, in addition to Rosetta Stone and standard Mac software, Firefox, OpenOffice, and Microsoft Office for Mac.
If there is a problem with any of the equipment, please fill out the Report Language Lab Equipment Problem form.
Booking
UPEI internal groups wishing to book the Language Lab should book online through 25Live (login with your UPEI credentials). External (e.g. PEI community) groups should contact Conference Services, 566-0568.
Revised: January 16, 2017