Creating an EBM Ready PDF
Below are some instructions to help you prepare your own EBM-ready book. The Robertson Library's Hacker-in-Residence, Peter Rukavina, also documented the process he used to create an EBM-ready book.
Note: Two fully prepared documents are required to print a book: a cover pdf, and a book block (interior pages) pdf.
Cover PDF
The back cover, spine and front cover are printed on one sheet of 11x17" satin stock. The covers and spine should be formatted as one continuous landscape image, centered (horizontally/vertically) on a blank 11x17" landcape template. During the binding stage, it will be wrapped around the book and cut according to the dimensions of your book block pdf.
Color: RGB
Resolution: 300 dpi
Cover size: The front cover and back cover should be the exact size of your book block dimensions.
Spine width: This is based on paper choice. Use one of the following calculations to determine how wide your spine needs to be. The calculation is Number of pages ÷ PPI (pages per inch) = spine width in inches
Domtar Cream 24lb: # of pages ÷ 408.1633 = spine width in inches
First Choice White 24lb: # of pages ÷ 528.1690 = spine width in inches
First Choice White 32lb: # of pages ÷ 377.3585 = spine width in inches
Example: A 350 page book printed on Domtar Cream would have a spine width of 0.86"
350 ÷ 408.1633 = 0.8574" (2.18cm)
The EBM will work with 4 decimal places, but rounding up to 2 or 3 decimal places will work fine in most cases where the cover art does not meet the directly where the spine starts. If you prefer to work with fractions (1/8, 1/2, 3/4, etc.), use a decimal to fraction convertor like the one here.
* If your book is less than 100 pages, do not include text on the spine.
Bleed: Assure there is a minimum 0.25" (0.635 cm) bleed
Export to PDF: Convert your document to CMYK, flatten all transparencies, embed fonts and export to pdf. If the cover has been done in Photoshop, there is no need to preserve Photoshop editing capabilities.
Example: Template of a 350 page book cover with a 6x9 book on an 11x17 inch template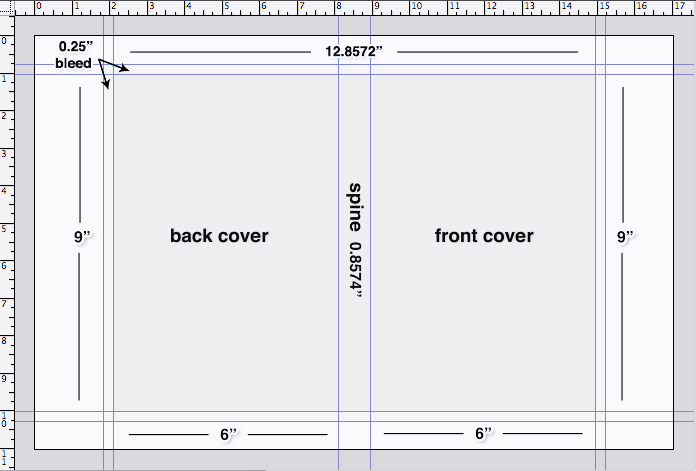 Book block PDF
Color: The interior of the book will always be printed in black and white (text) and greyscale (images).
Page Count: 80-800*
* Depending on the dimensions of the book, maximum page count may be reduced
Dimensions:
Minimum dimensions 11.4 x 14.0 cm (4.5" x 5.0")
Maximum dimensions 21.0 x 26.7 cm (8.25" x 10.5")*
* If the book thickness is larger than 1.27 cm (0.5"), the maximum dimensions are reduced.
Margins: As desired, but no less than 1.27 cm (0.5") on all sides. A margin of 2cm (0.8") is recommended.
Pagination: Many self publishers choose to print the page numbers in the bottom centre of the page, however if you choose to place them on the left/right, be sure to accurately count your front matter so the page numbers fall in the right place. We are not responsible for editing issues that create print problems in the final printed work.
Blanks: Book blocks will be printed exactly as they appear in the pdf, so be sure to include blank pages where you want them. The first page of the pdf will be a right hand page as soon as you open the front cover, and the last page will be a left hand page.
Font-size: As desired; this number is generally determined by target audience and a good rule of thumb is between 10-12pt.
Line height: As desired; We recommend a setting of 1.15 or 1.5.
Illustrations/photography: 300 dpi, greyscale
Paper choice: (cream or white)
Domtar Cream 24/60lb (408.1633 PPI)
First Choice White 24/60lb (528.1690 PPI)
First Choice White 32/90lb (377.3585 PPI)
Format: After formatting your book in your word processing or layout software, convert your file to a pdf using Adobe Acrobat, or https://acrobat.adobe.com/us/en/acrobat/pdf-creator-create-pdf-files.html Generally word processors do very bad things to pdf documents using their native pdf export, so this step is crucial.
Templates (.doc files)