Research Tool Plugins for your Browser (LibX, Bookmarklet, Unpaywall, OpenAccessButton)
Add one of these library-related web browser plugins to enhance your web surfing, both on-campus and off-campus!
LibX Toolbar - (install Chrome version here) Robertson Library's "edition" of the LibX Extension (for Firefox and Chrome browsers); provides a lot of right-click options that make it easy to access to the Library's resources from any web page. Adds a right-click "Reload this page via UPEI Proxy Server" (see quick 3-slide demo) for when you're at home and find publisher content that wants money! It can also search OneSearch for your selected text as well as the Library Catalogue.
Here is a sample screenshot of what the LibX context (right-click) menu looks like when you use it with text selected (in this example, a book title from Google Scholar search results):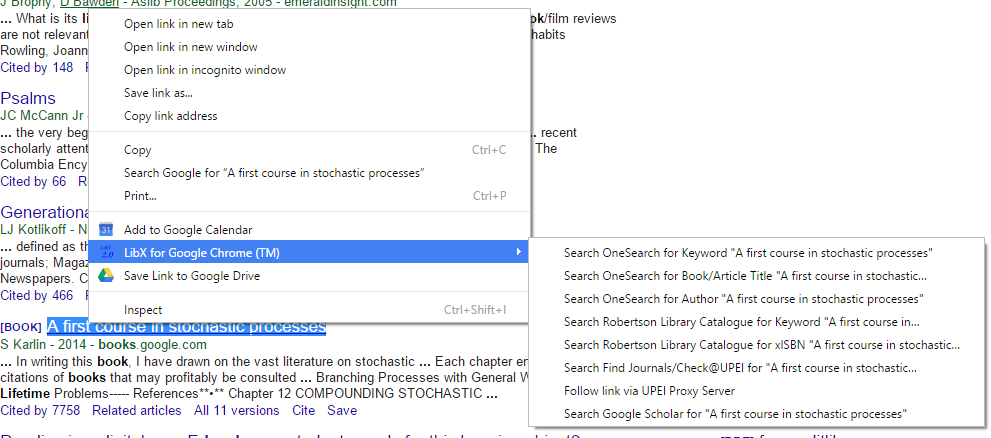 Proxy Bookmarklet - If you often do your research from off-campus and don't want to use LibX, we recommend you install the proxy bookmarklet on your browser's bookmarks toolbar. The bookmarklet lets you log into the proxy without having to browse from the Library website.
As always, if you run into content that we don't already have licensed, use the Interlibrary Loan service to obtain the material, or contact the library staff for further assistance.
Unpaywall - if you run into an article that UPEI truly does not provide free access to, there is still a chance that there is a legal and free version somewhere, on an Institutional Repository server or in a PrePrint server. This plugin for Chrome and Firefox can help you quickly find those if they exist.
OpenAccessButton - similar to Unpaywall, but also has feature that will help you create an email to the author to request they send you a copy of the article (authors often can do this upon request legally)