Start Your Research Paper Here
I am not sure where to search
There are lots of different places to search for research on the Library homepage.
OneSearch Full (use once you're comfortable with OneSearch Lite)
OneSearch Lite
What is it?
A search tool that is designed to help you quickly find resources that the library owns or can get very quickly
Best for beginning researchers who are just starting out
The library has subscriptions to all kinds of different databases (large searchable collections of articles, books, and other types of information). OneSearch Lite lets you search almost all of them at once and will only show you material that the library has immediate access to
Where do I find it?
The link to OneSearch Lite is found in the search (magnifying glass icon) drop-down menu at the top of the Library homepage.
Important: make sure you click the link that says OneSearch Lite, not OneSearch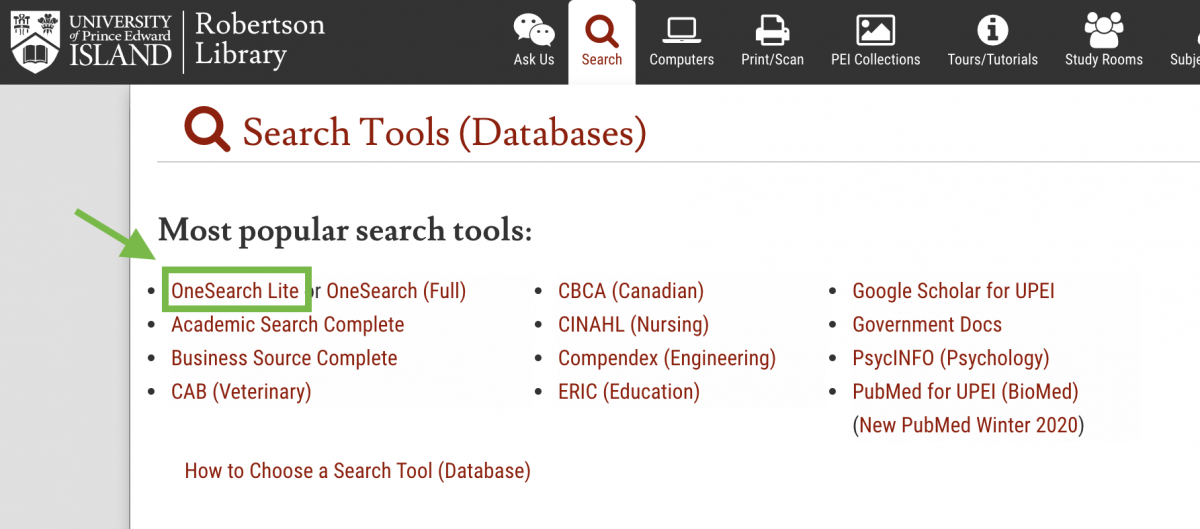 OneSearch Full
What is it?
OneSearch is the full version of OneSearch Lite.
Designed for more experienced researchers.
Searches a bigger range of resources
Not all the books/articles/etc that you find in OneSearch Full are immediately available through the library. Some may need to be interlibrary loaned.
More search and filter options available.
Where do I find it?
The link for OneSearch Full can be found on the Library homepage under the 'All' search box.



Subject Specific Databases
What are they?
Databases that deal with a specific subject area
Most are also included when you do a search in OneSearch Lite and OneSearch Full
We recommend using mostly OneSearch Lite when you are starting out, then moving on to more specific databases once you're comfortable
Where do I find them?
The Search (magnifying glass icon) at the top of the Library homepage will show you a list of the most popular subject databases as well links to lists of databases divided up by subject area.