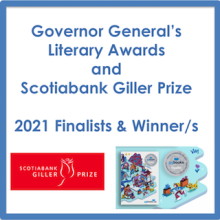 Embrace your love of reading! Check out our book display and find your next great book!
The Library has award-winning Canadian books for you to discover, whatever genre of books you are in the mood to read.
The display includes the finalists and winners of the 2021 Governor General's Literary Awards (GGBooks) in fiction, non-fiction, poetry, and drama.
The Canada Council for the Arts is responsible for administering and promoting the Governor General's Literary Awards. The awards recognize Canada's best English-language and French-language books in seven categories and encourage Canadians to read Canadian literature.
Lists of finalists and winning books from previous years are available on the Canada Council for the Arts website.
Also included in the book display are the longlist, shortlist, and winner of the 2021 Scotiabank Giller Prize. The Scotiabank Giller Prize is awarded annually to the author of the best Canadian novel or short story collection published in English.
Check out the Scotiabank Giller Prize website for further information, including this year's winner, The Sleeping Car Porter by Suzette Mayr.
Discover your next best author – read award-winning Canadian literature!