How to migrate your legacy RefWorks account to the New RefWorks
If you are using a RefWorks account created on the "legacy" version (i.e., the account was created before September 1, 2016) you will have the option to migrate your account to the new Proquest RefWorks. RefWorks will contnue to support the legacy version through 2018 and possibly longer for those working on large projects like dissertations and books.
Recommendation: If you are in the process of writing a paper or thesis using the legacy RefWorks, you should wait to migrate your RefWorks account until you have completed those documents. The new RefWorks Write-N-Cite is not compatible with the legacy Write-N-Cite so the new version cannot convert documents written with the older Write-N-Cite. (Note: If you do happen to accidentally migrate your account, your old account on the legacy version will still exist and you can continue to use it with the legacy WNC.)
But we also recommend that you migrate as soon as all prior documents are completed, not just to avoid retraining, because the new RefWorks has many new useful features that will not be provided in the legacy version.

How to migrate your references, folders and attachments to New RefWorks:
1. Login to your legacy RefWorks account.
2. Select the link New: Move to the newest version of RefWorks from ProQuest located on the top left corner of the screen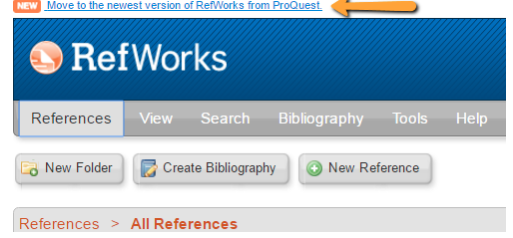 3. This takes you to the New RefWorks login and you will see your UPEI email address filled in.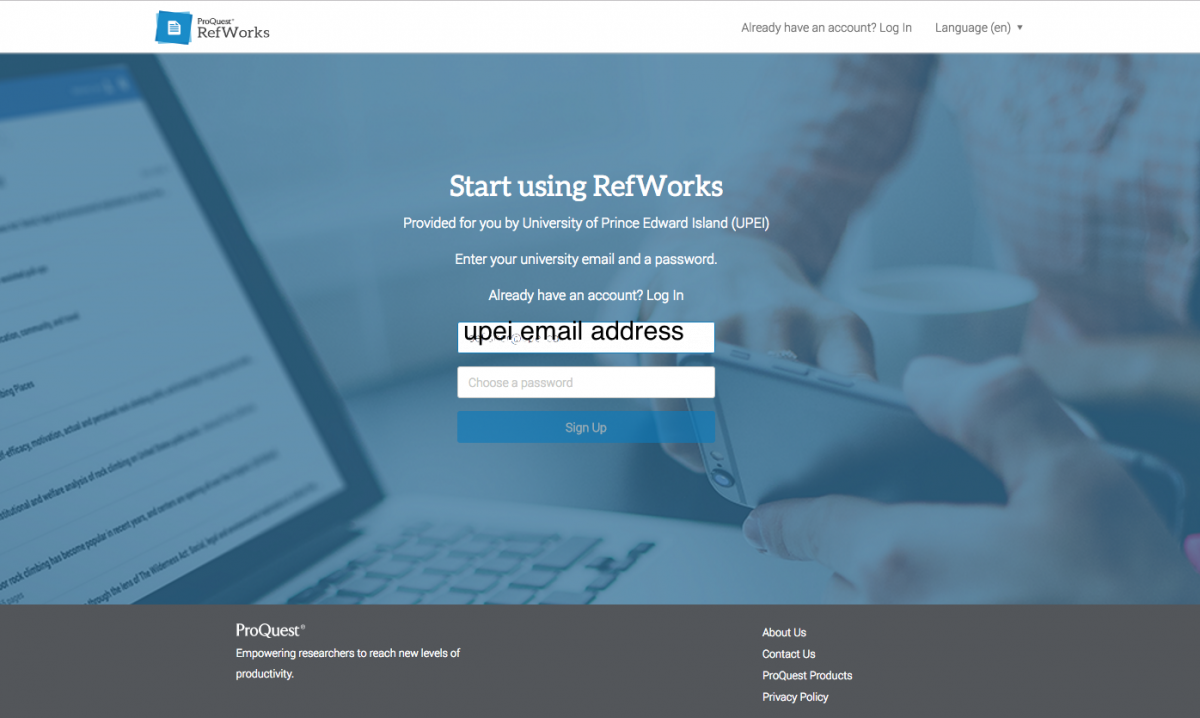 4. Select a password to create your account and continue with the account registration process.
5. Click Done.
6. Your references will be transferred to your New RefWorks account. (There may be a slight delay for your folders to transfer)


See the RefWorks Upgrade from Legacy RefWorks to the New RefWorks - User Guide (PDF) for more information.
Once you have migrated your account, you will also need to uninstall the old Write-N-Cite and then download and install the the new Write-N-Cite. See
Write-N-Cite "How To" for Windows (Write-n-Cite is compatible with Word 2010, Word 2013, and Word 2016)
Write-N-Cite "How To" for Mac (Write-n-Cite is compatible with Word 2008, Word 2011, and Word 2016)
New RefWorks features include:
* "Save to RefWorks" browser plug-in (works with PubMed, and websites)
* Google Docs Add-in for writing and formatting papers
* Drag and drop article PDFs into your account; read, share and collaboratively annotate documents
See the New RefWorks LibGuide for more information on using the New RefWorks.
If you need assistance, please contact the Library Service Desk, AskUs Chat Help, Meghan Landry mllandry@upei.ca or refworks.support@proquest.com
Revised: November, 2017