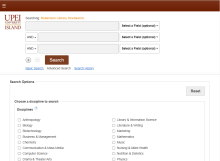 As of approximately June 19, ebooks and streaming videos will no longer be findable in the Library's Online Catalogue. Instead, you should use OneSearch to find them. OneSearch also contains records of all of the print books the Library owns as well, although you can continue to use the Online Catalogue if you specifically need a book in print format. All materials relating to University Archives and Special Collections are available in both online search platforms.
What can you still find in the Online Catalogue?
Physical books and reference materials
Physical media, such as LPs, DVDs, CDs, and VHS tapes
Some print-format government documents
All PEI Collection and University Archives materials
Other items available for checkout, such as laptops
Robertson Library currently has about 250,000 print books and over 800,000 ebooks in its collections.