Researching the Mi'kmaq at Robertson Library
Pjilsa'si -- Welcome!
The University Archives and Special Collections (UASC) unit of the UPEI Robertson Library is pleased to offer this research guide to our Mi'kmaq-related resources. If you have any further questions, please do not hesitate contact us.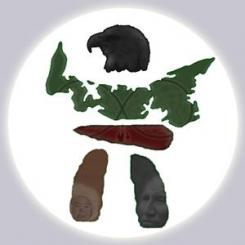 Follow the links below to learn more about using our Library to research Prince Edward Island's First Peoples.
This guide was created in the Summer and Autumn of 2010 as part of a broader Indigenous Education initiative at UPEI, funded by New Horizons. The leadership and encouragement of Dean of Nursing Kim Critchley, Keptin John Joe Sark, and Judy Clark of the Mi'kmaq Confederacy of Prince Edward Island in this initiative is gratefully acknowledged.
The Library is commited to maintaining and updating this resourse, as part of our roster of Subject Guides: feedback and suggestions are welcome.
The logo was created in 2009 by S. Brady for the Mawi'omi Aboriginal Student Centre at UPEI, and is used with permission.