Curbside Pickup Starting June 15th!
Starting the week of Monday, June 15th Robertson Library will be providing a Curbside Pickup Service to better serve our faculty, students, and staff. This will allow for physical materials to be borrowed again. There is no public loaning at this time, please see the Confederation Centre Public Library for help.
Video instructions on Curbside Pickup.
How to order an item through Curbside Pickup:
To use this service first fill out this form. *You do not need to fill out a form for each request, there is room to add multiple titles and links.
Choose a set time period to pick up the item. Right now we are offering Tuesdays and Thursdays between 11AM and 1PM.
Arrive at the library in the appropriate time slot with your UPEI Campus ID Card.
Call the library at (902)566-0583 when you have arrived.

If you do not have access to a mobile phone, we will schedule a specific time for pickup.

Wait at the marked location for a staff member to come with your item. Do not attempt to go inside the building as it is locked.
The staff member will require you to step close to the window to show your UPEI Campus ID Card.
Please step back from the window after you have shown it to them.
The staff member will push a book cart outside with your requested item(s). Wait for the staff member to tell you to take your item.
Retrieve your item(s) from the cart.
Make sure to arrive at the Epperly Plaza entrance to the library: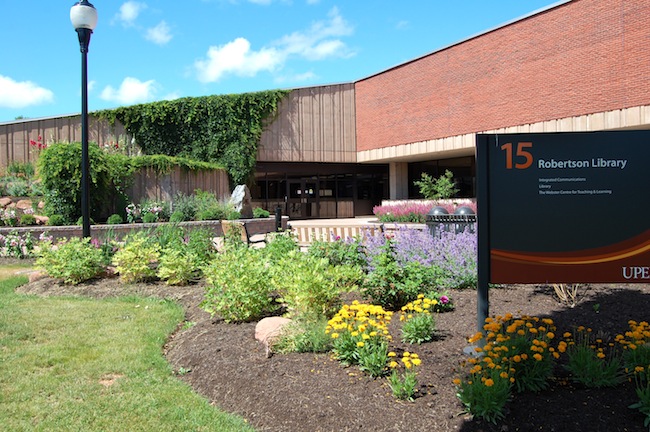 Look for the marked spots: